I was standing next to where Kiruna's town hall used to be, on the approach to the old town square where monsters are steadily munching their way through many of Kiruna's buildings, old and relatively new. We stopped the car at a short dead-end street that used to be a bridge over the main road running through Kiruna. The bridge held a road which took you straight to the offices of the mining company. Just over 20 years ago we ran over it, late for a mine tour Rolf had arranged in honour of my birthday.
The bridge was removed way back when it appeared it might be unsafe, but the road underneath only closed a couple of years ago. Now there's a public viewing point there with a fancy iron fence, which is surprising, because the view is of a pit, which isn't something Kiruna usually likes to draw attention to. Maybe it isn't a viewing point at all but a barricade, discouraging people from driving over the edge like Thelma and Louise in suicidal abandon.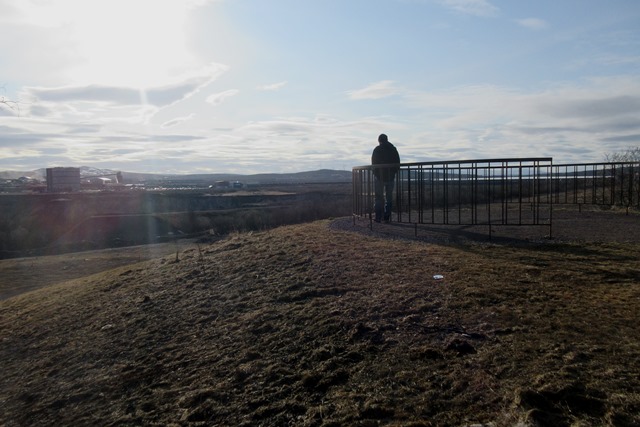 Immediately next to the fence there's empty land – a hill rolling down to the old road that is fast returning to nature. Undisturbed by cars and people, birds are happily colonising the area and plants are left to spread. Beyond the road there's the remains of an old car park, now a wasteland, and beyond that a steep drop into sunken land. In front of the mine's main offices opposite there's a jagged edge marking the extent of the subsidence.
It's peaceful, standing here listening to spring birdsong. It's a heady mix, the sunken, devastated land and the gentle return of nature. Looking at it you don't know whether to feel happy, or sad. We're peering at old brickwork and wondering what it can have been (part of the pedestrian tunnel under the road, we realised, now filled in). I wonder if in the future people will be interested in the lost city of Kiruna.