Kiruna's annual ice fishing completion is a civilising experience. Last weekend's competition on the city lake had clear weather with little wind, so sitting on the ice required little effort. It's a ritual to be part of, a quiet time with other people without any need to do anything other than gently move an arm up and down now and then, to attract a fish. Contestants are meant to be 3 metres apart, but friends can choose to be closer, if they're not worrying about snatching each other's fish.
As it turned out this year there was very little snatching going on because the fish seemed to have left town. A fishing competition without fish sounds a bit pointless, but for these participants, not at all. What they're here for is the sitting in the sunshine, the chat, and the prizes. You don't have to catch a fish to get a prize, that's the beauty of the thing. Prizes big and small are donated by local companies, and if anyone catches a fish then they go to the top of the list, but otherwise, for most people, it's just a lottery and everyone's a winner.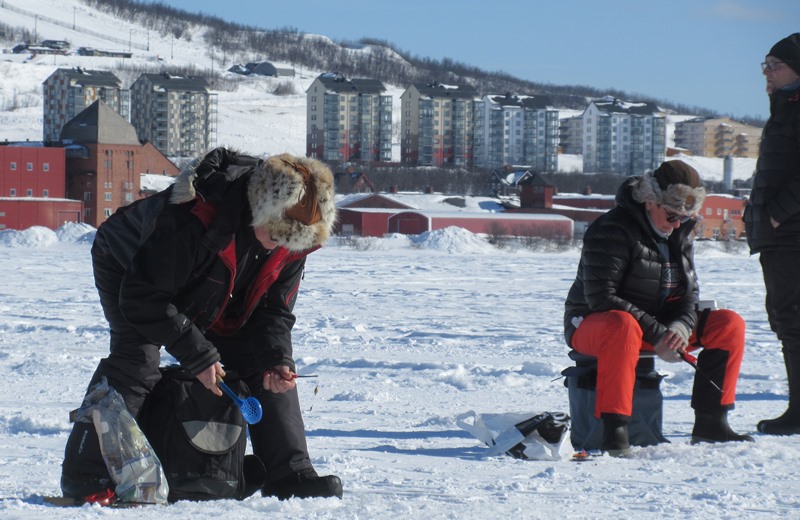 Not that they have expectations of winning that big cash prize or fancy multi-grill. It's the taking part, the sun on the face, the calm exchanges with people nearby that matters. You only need a cheap plastic rod and hook to take part, though you can bring more. Some people just stand to fish, facing the sun, eyes closed meditatively. Others lie on their backs on a reindeer skin, arm up behind them holding a line into the fishing hole. Or they might have handmade a sitting box, which can be pulled on mini-skis and contains all the bits and pieces they might want for the day – mustard for a sausage sandwich, for instance.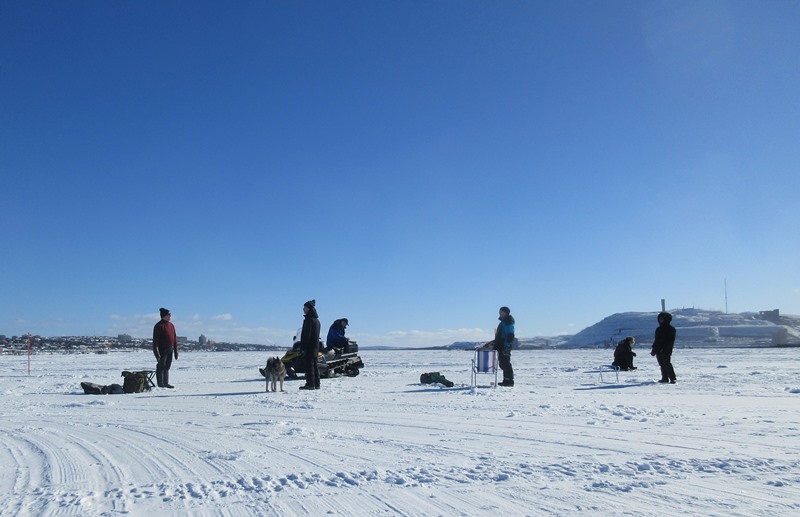 Most people come alone, because when they arrive and drill their hole they will not be. Other come as a family, setting up a picnic area on the ice and drilling a few holes together in one area. You could go ice fishing anywhere outside Kiruna on almost any day in the late winter/early spring, on your own, with no restrictions or people around, no need to find a place to park round all the other cars, no need to push through the crowds onto the ice – but people like to come here, on this particular day, for these particular hours. No-one is allowed on the ice until the first minute, announced by a foghorn, and everyone has to stop fishing on the last minute of the two hours. It's a set piece – on ice.
They might not want that iron solderer or electric toothbrush but they enjoy the day and at least come away with something, even if it was something they didn't really want. Kiruna people love a lottery, which is fortunate, given everything that's going on in Kiruna at the moment.