Arctic hares are white all over during winter. That makes them very hard to see on the piles of snow. They sit for long periods, and then leap, and by the time you realise something's there, it's gone. We have a regular hare in the garden. We're used to one another so she's calm when we're around.
A few weeks ago she went for a slightly different look, her spring look. She added small chocolate slashes to the white on her back and sides, and then put on a soft brown face mask and thick dark markings on the tips of her long ears. She looked like a doll when her brown nut face turned enquiringly towards us. You'd think nothing could be more beautiful than pure white, but these markings make her look more sculpted, more delicate, and more interesting. She knows it, we think.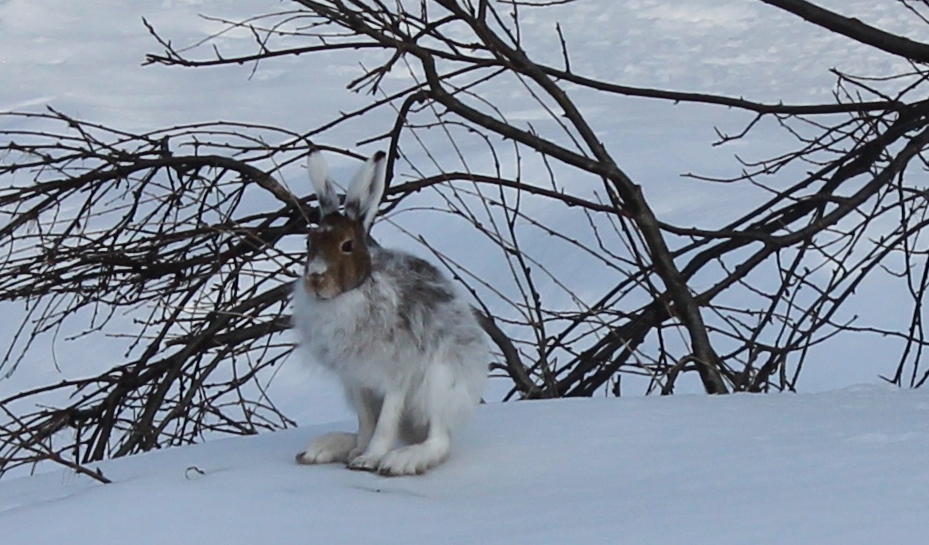 Around her the snow is melting in some places, but is thick in others. As layers of snow melt, collections of dirt and grit are revealed in stripes. Buried birch branches, dark brown and gnarled, can be seen poking up in the piles of snow. Small patches of wet yellow and brown appear on the ground, the old grass and growth merging with wet earth. The land around is mostly white, with chocolate coloured slashes, and occasional patches of medium brown. Just like our hare. She's still very hard to see.