As I've reported before, Kiruna's annual 'Snow Festival' does little to capture the imagination. This year, perhaps, even less so.
It was a bitter minus 22 degrees in the square, and there were no signs of a crowd forming to watch the snowplough competition (small hand driven snow clearing machines). There was no queue for hot dogs outside the community centre. A handful of tourists were looking for something to do, ideally in the warm. The Ice Hotel offered a seat by the fire, no doubt in return for listening to some marketing spiel about adventure tours they run.
The Film Studio invited people to a showing of the Japanese cartoon film 'Spirited Away', but in this showing 'everyone speaks Swedish' so visitors gave that one a miss.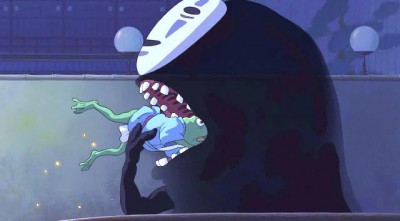 There were the usual snow sculptures, a couple of which brought a smile to the face. But otherwise you'd be forgiven for thinking you'd missed the festival, had come too late, too early, or to the wrong place. I don't know if the snowplough competition ever happened – later in the day we thought we saw a machine moving the snow away that had been put there for the race. There was no-one hanging out in the town square.
On the face of it, it seems not a lot happens in Kiruna these days. An illuminated notice board in town outside one of the venues (the sports hall) advertises 'Gravel Guts' and 'The Dead Cobras', performing on 28th January. The sign has been there for at least three years. Do Gravel Guts, I wonder, perform there every 28th January and it's just simpler to leave the sign up?
It feels as if Kiruna has run out of ideas on how to present itself and how to entertain its visitors – or perhaps it has just run out of the will to do so. Abisko draws people in by clever marketing about the aurora sky station, while Kiruna is seen as just a convenient place near the airport. Those of us who live here know that Kiruna has more to offer. It isn't a pretty Austrian mountain village, granted, but it's a real town with a dramatic history, and an equally dramatic present. Couldn't we make a bit more of telling people about it? Couldn't we try just a little harder to show that Kiruna is a fun place to be?
For example, if at the weekend Kiruna's visitors had been directed somewhere else, just a few minutes' walk away from the town square and the non-happening Snow Festival, then they would have seen a more interesting sight: how Kiruna itself is being 'Spirited Away'.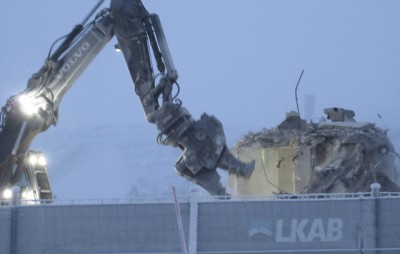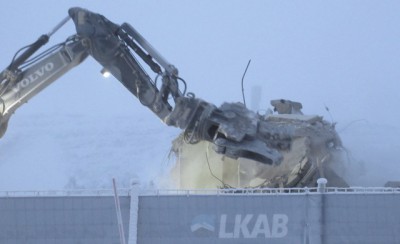 Now that's what we locals call entertainment.