At this time in August two thousand trekkers descend on the fjäll (mountain area) outside Kiruna, beginning their trek in Nikkaluokta, ending in Abisko. There's a staggered start, and some people complete it in one day, others in six. People come from all over the world to take part. Everyone has to camp, take minimum equipment – waterproofs, cooking facilities, sleeping bag, tent – but otherwise you walk at your own pace, stop where you want, camp where you want, and eventually arrive in Abisko.
It happens every year, and every year it is over-subscribed. We always have some people staying here, the day before or after the end of the trek, and so far we have only heard good things about the experience. It isn't a trek for solitary wanderings, but it's a companionable, reassuringly safe way to experience the beauty of the fjäll.
For sure, it has its difficulties. It's 110 kilometres, so no walk in the park. If it rains, which it inevitably will, you have to manage wetness over a period of days. Then there is the ever-present insect threat – mosquitoes, midges, flies. It can be very windy and a tent not expertly put up may tumble (on the other hand, more wind means less insects). There's nowhere to stop on the way for cafe latte or a beer (well there is one place actually, Kebnekaise Fjällstation, but that's just on the first day) and so it's dried food and water all the way. No, whatever you think about the idea of sharing the fjäll with two thousand other hikers, it's an experience and an achievement for anyone who does it.
But we haven't. Keep promising ourselves we'll do it another time, without all the people and razzmatazz. That's how it is, how one makes excuses not to do things. It's still on our list. Yesterday we were somehow drawn out to the area, but we drove to the end of the trek in Abisko to view a small exhibition of tapestries by Erika Juhl, a German artist.
We enjoyed the exhibition, and outside the STF (hostel) building we saw the finishing post for the trek, the refreshment tent, the first aid tents. It was too early to see people arriving, although unbelievably we later read that some people had completed the trek (running) in 15 hours.
Returning to Kiruna we couldn't resist the lure of Lapporten, the green land rising up from the E10 to a wide semi-circular shape visible in the mountains overhead.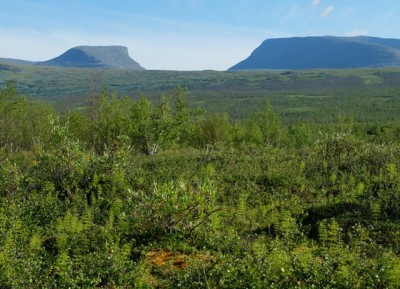 We took a limited amount of gear – insect repellent, bottle of water, sitting mat – and headed up just a short distance from the road through the birch scrub. The sun was warm but not too hot, the air still, and the greenery under feet remarkably dry and easy to walk on. We walked slowly to a small tarn where we had sat the previous winter in the snow.
There was something very odd though, very odd indeed about the feeling of the walk. We walked easily, and when we arrived at the water's edge we sat on the ground and stared into the sunshine, untroubled – totally untroubled by insects.
We reflected on whether we had just been unlucky in the past, not to find these insect-free places, or on whether the hot weather had dried out their habitat so much they had moved elsewhere. Unconvinced, our thoughts turned to the Big Trek.
All those people out in the fjäll, slathered in insect repellent, lying all night in their tents.
I reckoned that, somehow, the insect population had put out a flyer, an advertisement, laid out not in words but in scents. It would have 'read' something like this:
FEAST IN THE FJÄLL
This week you are warmly invited to a Feast in the Fjäll.
Please note: this is a girl only event!
This event – sponsored by Fjällräven, the well-known clothing suppliers – will provide enough blood for one million girl mosquitoes or other blood-sucking insects to nourish thousands of millions of eggs, and it ensures that we can continue to party out in the fjäll for the rest of the season, and even another year.
The sponsors have kindly ensured that all the blood supplies will be available outside for most of this week, and no physical barriers (walls, doors) will be there to discourage us.
We'll smell you there. Now buzz off!