On Friday we went to Jokkmokk Winter Market. This is traditionally a Sami winter market – it is its 409th year (yes you did read that right) – and is now an event that draws visitors from all over the world. The goods and skills on sale are Sami, but also more common market produce – plastic spoons, liquorice sticks, steamed donuts, woollen socks and hairpieces. There are talks, concerts, theatre – mostly, but not all, on a Sami theme – and there's reindeer racing. It is a wonderful mix of cultures, in fact, with a strong underlying Sami base – it's a time that Sami culture and craft is the main feature, rather than a sideline, and it's a time for Sami people to express their communal and individual identity to the world.
Every year, the same Sami family lead their herd of extremely tame white reindeer through the market streets, to be admired and petted by visitors. It's hard not to be charmed by the animals, and by the younger members of the Sami family in Sami traditional clothing – the youngest must be around 2 years of age and she sits calmly on a sled surrounded by the crowds.
This year, after the traditional reindeer parade, came another parade – of dark, masked characters, with reindeer pulling sleds of the bones of dead animals. They handed out a description of their vision for the future, where the land was allowed to flourish, providing grazing for the reindeer who had migrated and fed their for generations, where the water was clean and drinkable, and the landscape a thing of beauty.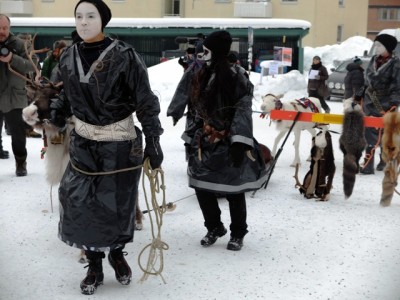 It was the nearest the Sami were allowed to a protest march – a protest against the proposed new mining activity in the area. There has been mining around the reindeer's migration and pasture land for a long time, and the two have an uncomfortable co-existence. The intrusion of new mining activity – a new company and a new mining area – is another matter. It is seen as a greedy hunt for profit, unnecessary for the economy, and detrimental to the environment and especially detrimental to the living of the reindeer herders. The local government has so far encouraged the new mining development, and in an area where a large proportion of the population is Sami, this is seen as betrayal. There was talk of boycotting the Winter Market. Without the Sami there is no Winter Market, and the tourism and other business that it feeds would suffer. Unfortunately, many of these businesses are Sami owned, so a boycott would be particularly damaging to their economy.
On the day there were some Sami who protested by being absent, while others found ways to protest at the market itself, as in the black parade of reindeer bones. It's disappointing that there should be such a threat to the reindeer herders' way of life when the success of the market is evidence of people's fascination with it. It's good to see that people are protesting against this threat and we hope their voices are heard.
We travelled three hours south by car to reach the market. We don't go to buy spoons or donuts, and although we have sometimes bought some craft it isn't the main draw for us. We like the atmosphere of cooperation in the market – different nationalities socialising together in the 'After Market' tent over a beer, or moving slowly around school classrooms to look at Sami works of art on display, many of them by artists at the start of their careers.
We were lucky to catch a performance by Jörgen Stenberg, a reindeer herder and a singer. He performed with a band of musicians from very different cultural and musical backgrounds. Traditional Swedish fiddle music, American influence blues guitar, and Sami 'joik' created an inspiring mix of sounds.
There were songs about reindeer, about family members, and about the destruction of Sami grazing land in the 1960s by the building of power stations. The emotion that was expressed in this concert was honest and very moving, and the blend of musical traditions was an expression of cooperation and tolerance. That's why we go to Jokkmokk Winter Market, and we come away the richer for it.