Expedition delayed, but finally reaches goal
A hard going we had of it. It was blowing a hard north easterly round the peak of Luossavaara, and the snow lay thick on the ground. We set off from base around 9.00 hrs with the wind in our face, and heavy gusts of snow falling around us. I went first, my companion hooked in from behind. We walked that way for 20 minutes without a break, our fingers pained with cold. We both carried bags – which made progress slower, but was necessary for our journey – mine holding the all-important shopping lists.
As we approached the first stage camp – the trolley park – I turned for a moment to negotiate a trolley out of its hold, and it all happened in an instant: the shopping lists were torn away from my bag, curling down the vortex of the pathway.
I threw myself after, narrowly missing a rubbish bin, finally managing to reach towards one of the pieces of paper. Clutching it fiercely to my chest, and breathing heavily, I looked around for the other list. There was no sign of it. For the next half hour we searched high and low, trying to calculate the wind speed, possible obstacles in the way, working out where it might have fallen. But it was no good. It was not to be found.
We retrenched, hunkering down around our trolleys out of the wind. At times like this you need the determination of a mountain lion to survive. Painstakingly we recreated the shopping list with whatever tools we had to hand. It took many minutes, and a great deal of skill and concentration. We were able to continue our journey.
Yes, there would be eggs for tea.
Sharp fall in Norwegian krone has big effect on the market
With high hopes we launched ourselves into the supermarket yesterday, with the confidence of buyers who know when they have the upper hand.
'Norway's krone suffered one of its sharpest falls since the financial crisis of 2008 after the country's central bank took an unexpectedly dovish stance that caught investors off guard.'
This was the news we'd been waiting for. For over a year now, Norwegian traders have taken the two hour journey by car from the border to enter the market in Kiruna, buying up biscuits and jam while they could. But now the news suggested something rather different.
It was true; there were no long queues at the tills. It was Sunday afternoon but no sign of Norwegians shopping. Just a few locals, picking up the ingredients for a meatball supper.
'The (super) market remains calm, but traders are watching the value of the krone with keen interest.' (Reuters).
Giving the people what they really really want
Coca-Cola has extended its reach into the arctic, and says its responsibilities do not end with providing people with a drink. 'We at Coca-Cola believe that, having already taught the world to sing, we should now teach the world to make art,' said a spokesperson for the company.
The company's press release emphasises that Coca Cola is mindful that just like its product, art needs to adapt to express the particular tastes of the local people. 'It isn't one art suits all'. Apparently a lot of men in suits sat around in a marketing suite in Los Angeles trying to come up with a theme for the work of art in Kiruna. Then someone had a brain wave.
Today Coca-Cola revealed this work of art. It stands in the local supermarket, and is the size of a whole room. Made entirely of Coca-Cola boxes, it's a giant reindeer. Just to make it absolutely clear, there is a real (stuffed) reindeer in front of it.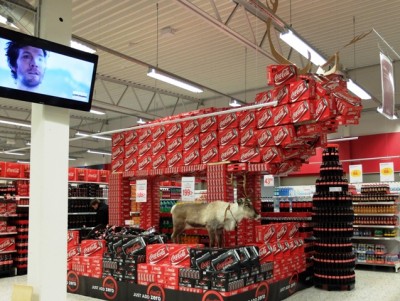 I think that says it all.