There's no denying, Kiruna is limited. It's a small town in a big landscape, and of the four roads out of town, two of them are dead ends.
Sometimes I feel a bit uninspired when I think of the options. You can turn right, or left. If you keep driving for an hour you won't get anywhere, to speak of, in either direction. And yet, time and time again, when we go out with no expectations something surprising or memorable happens.
Yesterday we went to the site of the Ice Hotel and we went with zero expectation. It was dark, windy and snowing, and we knew it's not yet built. When we drove up to the site we saw fencing, stopping us getting any closer. Undeterred we walked around the side and down by the river, and seeing someone working there, asked if we could walk a bit closer to get a view of the bare structure on the ice. Tractors were whizzing around without any apparent purpose, but it was good to see the hotel in it's starting blocks, bare metal semi-circles soon to be covered in 'snice' (snow and ice).
Returning to the main entrance we couldn't help noticing a block of ice like a bar in the pathway, and, if our eyes didn't deceive us, a load of ice glasses with cheery red liquid inside. We approached. They asked us if we were from the mining company. No, we said. The group from the mining company then arrived and were offered the drinks in the ice glass, but they soon moved on inside, so we were invited over to the bar for the leftovers.
They'd also put out a block of ice on the bar to invite the party to try their hand at sculpting ice – but the beer inside had seemed more enticing so no-one had stayed to try it. We were invited to have a go instead. Chiselling at ice is a much nicer experience than you'd imagine. It's easy to make an impact – too easy – and makes a lovely ringing sound as you do it.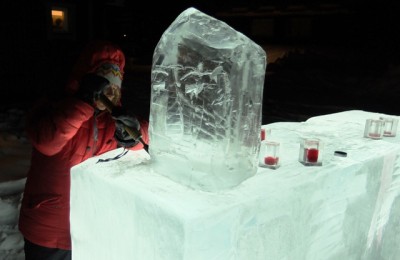 We stayed for a while, drinking juice from ice glasses and chipping away at the ice block. We certainly hadn't expected that when we set out from home in the snow and dark.
Today we wanted an outing, so we drove down one of the dead end roads out of town – it's not a dead end for over an hour, and the views of river and mountains always impress. It's early in the winter season and some of the good stopping places hadn't been cleared of snow, so we couldn't stop. We reached the car park where in winter there's a road across the frozen river. We'd thought it would be too early for the road to be there, but someone had just cleared the ice of snow to make it, so we stepped out onto the ice with confidence.
Coming back to the car I walked around the corner of a boat house to admire the view. A man came by on a snow scooter, and seeing the camera round my neck asked me if I was taking photos. We got chatting. He lived on the land the other side of the river, and was the one who had just 'made' the road. I asked how he got to and fro in the seasons when there was no ice, or ice not strong enough to drive on, and he said there was another route by boat, and anyway, he had lots of food. He said he liked taking photos of the area too. He had a reindeer herd on the land opposite, where his house was. We talked about what I did, where he lived, when the river usually froze, how old the boat houses were. Unexpected, and all the more wonderful for that.
Visitors to 68 degrees bed and breakfast this week had booked to go on a sled dog tour. Unlike most other evening sled dog tours, this one didn't mention the northern lights. No enticing promises made – just the dogs and the sled ride and a dark snowy landscape. Later that evening our guests returned home and showed us all the photos they'd taken of the northern lights. That's how it goes.