We do live next to a road. I don't want to put off any future bed and breakfast guests, but I might as well be honest. It's quiet at night, but in the daytime there's a fair amount of traffic that puffs up and down the hill, and that includes lorries, buses, and tractors. I get to watch them all go by when I'm in the kitchen, and I find it quite entertaining. A cul-de-sac wouldn't be a good place for me, with nothing passing by.
Most of the time I don't really notice the sound of the traffic. We have triple glazing so it's no big deal. But now and again something thunders by, and you'd think it would be a bus or lorry. But invariably, when the noise draws my attention to the window, it's a little old car struggling up the hill, a red triangle stuck on the back and a queue of cars behind it waiting to overtake. It's known as an 'EPA tractor' and it looks like something from the 1950s that hails from the deep west.
Which, in a way, it is. During the second world war there was a shortage of tractors in Sweden, so a local discount shop – called 'EPA' – started making cheap tractors out of cars. They pulled out the passenger seats and added two gearboxes and called the car an agricultural vehicle. Nowadays these tractors are limited to a speed of 30 km/h, but they are extremely popular with the local youth because they are allowed to drive them when they are too young to have an ordinary licence. They make a lot of a noise, and you'd think they'd madden the hell out of cars around them because they're so slow, but they're just part of the road scene and no-one seems especially bothered.
Of course any vehicle that can be driven on the road without a licence is going to be popular, but in these parts it's almost a religion and one that holds many people's interest way beyond their teenage years. Vehicles that in some way are out of the ordinary, cobbled together from nothing, adapted and improved or individualised – hold a fascination for people. The 'EPA tractors' grinding up the road today have all been created from broken down old cars. They've ripped out the passenger seats and added a restriction to the gearbox to make them slow (and consequently noisy). They are labours of love.
There's also a thriving market (as elsewhere in the Swedish countryside) for classic American cars. So when the 17 year old gets his driving licence, he graduates from an 'EPA tractor' to an imported American car. Classic car owners cruise around town in the summer months, chugging round and round the main square as slowly as possible. After a while they pull up on the kerb somewhere, so they can 'hang' in town in their own bit of heaven. There's a club of course, and being Kiruna, the land of the midnight sun, it's called 'The Midnight Cruisers'.
The classic cars aren't as noisy as the tractors, but they aren't very quiet either. At the weekends they thunder up this road into town early evening, and back down again, usually in the early hours of the morning.
But their days are numbered. As it turns colder, the tractors, and the cadillacs, will be secreted away to buildings in backyards, left to sleep for the winter, hidden deep in dark garages, under a layer of pure white snow. Over the winter their owners will forget them. They will become distracted by the joys of their snow scooters (mercifully not driven on the roads) and will roar around the snowy landscape in them, phutting and spluttering and producing lots of black exhaust fumes. We will all forget about the pink cadillacs and chevrolet deuce coupes, the American dream sleeping under the snow. Until sometime in May, when all over Kiruna garage doors will be flung open to reveal these sleeping beauties and bring them back to life.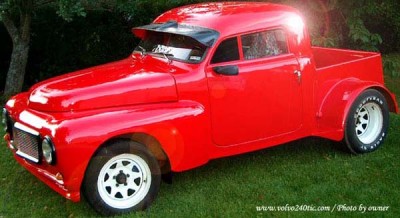 …